News
Turn 14 Distribution Adds Pedal Commander to Line Card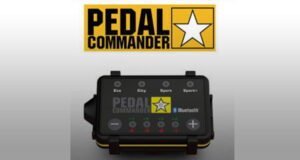 Performance automotive parts distributors Turn 14 Distribution has added Pedal Commander products to its line card. Pedal Commander is the manufacturer of a line of throttle response controllers.
"The innovative throttle response controllers from Pedal Commander provide enthusiasts with an immediate improvement in their vehicle's feel and performance. It gives the enthusiast who is looking for a performance improvement from their vehicle an option that's easy to use and doesn't require custom tuning," said Mo Ayad, divisional purchasing manager, Turn 14 Distribution.
"The ability to tailor vehicle response to the specific needs of the driver with an easy-to-use device that can be easily switched between modes provides great flexibility to the vehicle owner. We are pleased to add Pedal Commander's products to our line card and offer them to our Dealers."
Pedal Commander products remove engineered-in delays from electronic throttle pedals and provides the ability to make the vehicle's throttle pedal more sensitive for a sportier feel, or less sensitive if the main goal is to increase fuel economy. The ability also exists to switch between four different modes, as the driver's needs change. In addition, each mode has eight sensitivity levels so the driver can tune the vehicle's response for any situation.
Pedal Commander is manufactured with CE, E24, ISO 9001, and ISO 140001 certifications.