News
Turn 14 Distribution Adds ORACLE Lighting to Line Card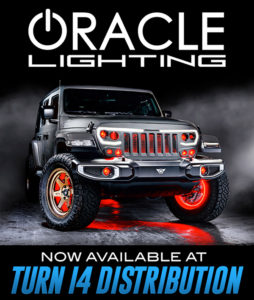 Performance parts distributor Turn 14 Distribution has added ORACLE Lighting automotive LED lighting products to its line card, the company announced.
"ORACLE Lighting offers an extensive range of LED products that includes Halo Kits, Wheel Rings, DRL Kits and much more. The New Orleans-based husband-and-wife-owned company continues to grow year after year and has received prestigious accolades, such as SEMA's 2021 Manufacturer of the Year Award. The company's products showcase bright and vivid colors that stand out among the crowd on high-end show vehicles and street cars alike. Turn 14 Distribution is enthusiastic to partner with ORACLE Lighting and build a partnership beneficial for both companies," said Mike Malloy, director of purchasing, Turn 14 Distribution.
The majority of ORACLE Lighting's product line features an average lifetime rating of 50,000 hours of continuous use. ORACLE Lighting also has a presence in motorsport, such as this year's Rolex 24 Hours at Daytona and Formula Drift. The company has also received accolades from numerous organizations for its business practices, including SEMA's Manufacturer of the Year Award in 2021 for its outstanding contribution to the automotive industry, the company said.