News
Turn 14 Distribution Adds Öhlins Racing to Line Card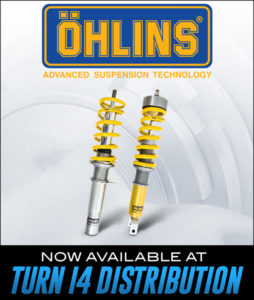 Turn 14 Distribution, a distributor of aftermarket performance parts, has added the suspension dampers and components manufactured by Öhlins Racing to its line card.
"Öhlins Racing manufactures premium suspension dampers for most performance vehicles on the market today. Turn 14 Distribution is proud to partner with the company to bring its technology to our customers," said Alex Lesslie, divisional purchasing manager, Turn 14 Distribution. "Öhlins Racing's unique Dual Flow Valve technology allows an enthusiast to use his or her vehicle for two purposes: in comfort while driving to work, and then in race mode for fun action on the weekends or at the track. Since both low- and high-speed compression and rebound damping are adjusted with the Dual Flow Valve, a customer gets the best of both worlds from these exceptional products."
Öhlins Racing has been an integrated part of the motorsport industry as well as the automotive industry for 40 years, collaborating with manufacturers and teams in the world to develop the optimal suspension performance.