News
Turn 14 Distribution Adds NRG Innovations to Line Card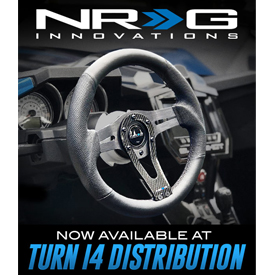 Turn 14 Distribution has increased its product offerings in automotive styling with the addition of NRG Innovations to its line card.
"NRG Innovations offers a wide range of interior and exterior styling options, among them reinforced steering wheels and seating," said Kyle Shelley, Turn 14 Distribution's director of sales. "Turn 14 Distribution is proud to partner with NRG Innovations and give our customers yet another choice for these types of products."
The "enthusiast operated" NRG Innovations was established in 2003 and has since attended countless races, shows and meets-including its own Drift Matsuri event every year.