News
Turn 14 Distribution Adds Nitrous Express to Line Card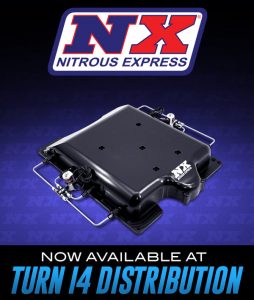 Performance parts distributers Turn 14 Distribution have added the full line of nitrous systems and components manufactured by Nitrous Express to its line card.
"The nitrous system products offered by Nitrous Express are the perfect fit for Turn 14 Distribution. Nitrous Express founder Mike Wood and his team push the boundaries to develop trendsetting nitrous systems, and we are excited to offer their products to our customers," said Mike Malloy, divisional purchasing manager, Turn 14 Distribution. "The company offers an extensive line of nitrous systems for all types of vehicles, including those with electronic fuel injection, carburetion, and even diesel vehicles. The full assortment includes service parts, fittings, and all of the other ancillary components required to install and use nitrous systems effectively on a performance vehicle."
Founded in 1996, Nitrous Express manufactures nitrous oxide systems and components. The engineering team at Nitrous Express has developed a wide range of products designed to maximize the performance of nitrous systems regardless of engine platform or power level.