News
Turn 14 Distribution Adds Mounted and Balanced Wheel and Tire Packages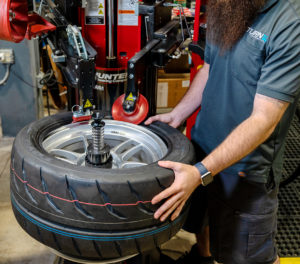 Performance parts distributor Turn 14 Distribution has added the capability to deliver mounted and balanced wheels and tire packages for its customers, either to the customer's shop or directly to the end user. This service directly benefits Turn 14 Distribution customers by providing them with the ability to customize wheel and tire packages from the brands available on the Turn 14 Distribution website.
"Mounted and balanced wheel and tire packages can be drop-shipped to the end user or delivered right to the shop for quick and easy installation. There's no need for a shop to invest in expensive equipment, as Turn 14 Distribution has already done so," said Kyle Shelley, Director of Sales, Turn 14 Distribution. "This program offers several customer benefits. There is a cost savings using our competitive shipping rates by ordering wheels and tires as a package rather than individually. The wheels and tires arrive ready-to-mount, saving customers time and shop hours. They can simply unpack the wheels and bolt them onto the car."
Turn 14 Distribution has invested in premium equipment to ensure seamless processing of orders. Factory-trained technicians assemble the packages with one of Hunter Engineering's Revolution fully automatic tire changer machines, while a Hunter Engineering Road Force Elite wheel balancer ensures vibration-free operation upon installation. All mount and balance packages will feature Road Force balancing.
Schrader TPMS sensors can be pre-programmed when purchasing a wheel and tire package by providing the vehicle's year, make, and model during the ordering process, although oncar learning is still required. Wheel weight colors match the wheel: darker wheels receive black weights while lighter wheels receive silver weights.