News
Turn 14 Distribution Adds Mayhem Wheels to Line Card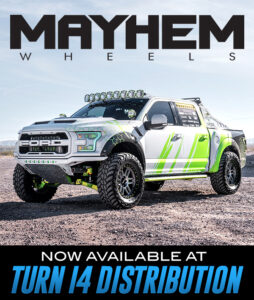 Performance parts distributor Turn 14 Distribution has added to its selection of custom off-road wheels with the addition of Mayhem Wheels to its line card, the company announced.
"Mayhem Wheels is another exhilarating brand we are bringing on from The Wheel Group (TWG). The company develops wheels with aggressive styling geared toward the performance-oriented wheel customer in the truck, Jeep and SUV segments. Some of the popular products include deep-lipped wheels as well as styles with the simulated bead lock look. Highly desired sizes for the brand include 20-inch and 17-inch fitments, and we expect this to remain true with our customer base. Turn 14 Distribution is pleased to bring on another TWG brand and believes Mayhem Wheels will fit in nicely with our truck and offroad dealers." said Alex Leslie, divisional purchasing manager, Turn 14 Distribution.
Mayhem Wheels is part of The Wheel Group, a manufacturer and distributor with over 45 years of experience specializing in aftermarket automotive wheels, bumpers, and accessories. Mayhem Wheels' mission is to create a brand that provides unique styling, precision, and quality with solid functionality, the company said. With an approach that has resulted in a durable wheel with high load ratings, Mayhem Wheels offers a variety of sizes and fitments targeted for trucks, Jeep, and SUVs.