News
Turn 14 Distribution Adds LP Aventure to Line Card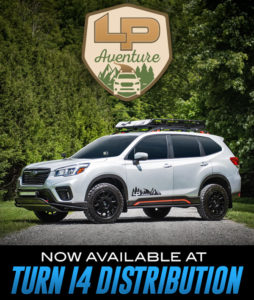 Performance parts distributor Turn 14 Distribution has added the Canadian based company LP Aventure to its line card, broadening its off-road product coverage for Subaru and CUV applications.
"LP Aventure is the first brand we have added with a sole focus on the CUV overland and off-road market. The company's bread and butter products cover Subaru applications, which provide a perfect fit for Turn 14 Distribution, as Subaru performance was our main entry into the aftermarket industry. LP Aventure's product features the highest of quality and is manufactured by dedicated off-road experts. Hand-welded construction and a commitment to advance testing ensure that every part meets the high demands of vehicles out on the trail," said Alex Lesslie, divisional purchasing manager, Turn 14 Distribution.
LP Aventure is a Canadian-based company and source for equipping vehicles for off-road applications, focusing on Subaru Outback, XV Crosstrek and Forester. All parts are conceived and designed by LP Aventure's team. The company offers a complete range of equipment for off-road vehicles, including lift kits, skid plates, LED light bars, bumper protectors, outdoor and off-road accessories, roof baskets, winches, wheels and more.
A majority of LP Aventure's lift kits passed the Federal Motor Vehicle Safety Standard 126 compliant test and do not interfere with the OEM-designed Electronic Control System. All of the company's products are hand-welded, with no robotic automation used, and undergo on-track testing.