News
Turn 14 Distribution Adds King Off-Road Racing Shocks to Line Card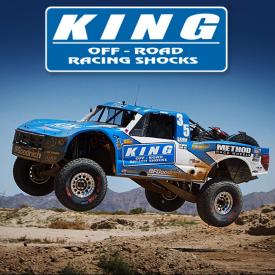 Performance parts distributers Turn 14 Distribution has expanded its line card with the introduction of King Off-Road Racing Shocks.
"We are excited to partner with King to bring their widely-respected line of racing and direct-fit shocks to our customers," said Alex Lesslie, Divisional Purchasing Manager, Turn 14 Distribution.
"The company's strong background in the off-road racing segment includes sand car, trophy trucks, and rock crawlers. Additionally, King continues to build out its direct-fit applications, which will be on Turn 14 Distribution's shelves as soon as each fitment is released."
King Shocks manufactures custom-made adjustable and rebuildable shock absorbers for professional racing, OEM replacement, and utility vehicle use. These are designed, developed, and tested in partnership with some of the world's top racers. The real-world testing enables the company to validate its designs in the harshest conditions with feedback from the enthusiasts and racers who use them most often.
The company's in-house electromagnetic shock dyno complete with data collection capabilities offers its engineers the ability to test products in what amount to realworld conditions. This testing enables them to make swift design changes to take advantage of discoveries in efficiency and performance before manufacturing products for consumer use. All parts used in King products are machined in-house from billet alloy materials on precision equipment to exacting standards, then hand-assembled by trained technicians at its Garden Grove, California facility.
The product line consists of coilover, bypass, and smoothie shocks, as well as bumpstops, tools, and racing jacks. King's OEM and UTV upgrade kits offer serious performance upgrades and simple bolt-on installation. These products are available for stock vehicles or those modified with aftermarket lift kits or long travel suspensions.