News
Turn 14 Distribution Adds JLT Performance to Line Card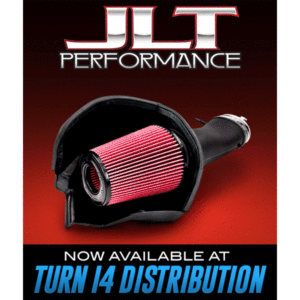 Turn 14 Distribution has supplemented its line card with the addition of the JLT Performance line of cold-air intakes, air and oil separators, and other products.
"JLT has an extensive, successful racing history powering champions in the domestic performance marketplace, and we're proud to be the first performance warehouse distributor to stock their line of products," said Kyle Shelley, Turn 14 Distribution's director of sales.
"Much like Turn 14 Distribution, JLT Performance is a privately-owned company that was founded to address a need in the marketplace. The company has built its reputation upon providing solutions to its customers. Today, the company's record-setting, championship- winning products will be stocked on Turn 14 Distribution's shelves."
The first JLT Performance cold-air intake was manufactured in founder Jay Tucker's garage for his 1999 Saleen Mustang. Not long after, he upgraded the car to a supercharged 2003 Mustang Cobra. The JLT Performance brand was founded upon this car.
After manufacturing a cold-air intake for the Mustang and recording impressive results, Tucker was quickly inundated with orders and was able to slowly back away from his day job to focus on manufacturing cold-air intake systems, according to the company.
JLT Performance today manufactures dozens of products in its Chesapeake, Virginia factory.
Visit turn14.com for more information.