News
Turn 14 Distribution Adds JKS Manufacturing to Line Card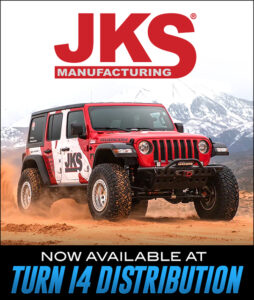 Performance parts distributor Turn 14 Distribution has added suspension solutions by JKS Manufacturing to its growing line card, the company announced.
"JKS Manufacturing is a suspension brand under the Sports Truck USA umbrella and adds yet another established off-road brand to our line card. The company's product line is almost exclusively Jeep and has recently branched out with new Ford Bronco items. Top selling products include track bars and quick disconnect sway bar links for various Jeep model years, with the JK application being the most popular. In addition, JKS Manufacturing offers a line of complete suspension kits that we can accommodate with our product group system. Turn 14 Distribution is proud to partner with JKS Manufacturing to bring its advanced suspension technology to our customers as we continue to grow into the fanatical aftermarket Jeep space," said Alex Lesslie, Divisional Purchasing Manager, Turn 14 Distribution.
Since 1989, JKS Manufacturing has developed products for Jeep vehicles, including its original Quick Disconnect brand of quick-release sway bar disconnects. Since then, JKS Manufacturing has continued to expand its product line to include the ACOS line of height-adjustable coil spring spacers and J-Spec Suspension systems, including the JK Front Coilover Conversion.