News
Turn 14 Distribution Adds Jet-Hot Headers By Kooks to Line Card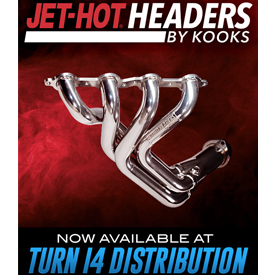 Turn 14 Distribution continues to diversify its aftermarket offerings by becoming the exclusive distributor of the collaborative line of headers from Kooks Headers and Exhaust and Jet-Hot High Performance Coatings.
"Jet-Hot Headers by Kooks combines Kooks' top quality headers and Jet-Hot's renowned classic polish coating for select late model V-8 applications. We are happy to partner with both brands on this exclusive collaboration in order to provide our customers with continued product variety at a great opening price point." said Kyle Shelley, Turn 14 Distribution's director of sales.
Jet-Hot Headers by Kooks' goal is simply to provide the best value in the high-end performance header space, according to the companies. By combining Jet-Hot's coating with Kooks' manufacturing and design, they are able to provide cooler under-hood temperatures and keep performance at its peak.