News
Turn 14 Distribution Adds JBA Performance Exhaust to Line Card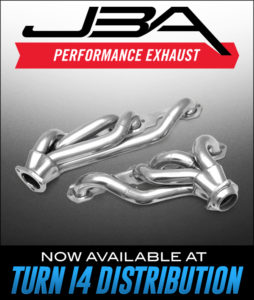 Performance parts distributor Turn 14 Distribution has added JBA Performance Exhaust's selection of exhaust systems, emissions-compliant headers, exhaust components and accessories to its line card, the company announced.
"JBA Performance Exhaust is a leader in stainless steel headers and exhaust systems for performance vehicles and has been a dominant brand in the aftermarket exhaust industry for over 30 years. JBA is recognized for its performance, fitment and emissions legality with the most coverage of EPA compliant products and CARB EO numbers in the exhaust header aftermarket. Turn 14 Distribution is thrilled to bring on JBA Performance Exhaust and offer its high-quality exhaust and performance products to our customers," said Mo Ayad, divisional purchasing manager, Turn 14 Distribution.
In 1987, JBA set out to build its own products to meet the needs of the growing street performance market. Originally developed for the 5.0L Mustang, JBA's replacement Cat4Ward headers were engineered with heavy-duty features, easy installation, a durable design and emissions legal status, the company said. As demand grew and emissions regulation increased, JBA saw the need to broaden its product line to cover GM, Ford, Dodge, Jeep, Nissan, and Toyota vehicles.