News
Turn 14 Distribution Adds Innovative Mounts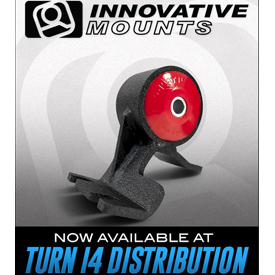 Turn 14 Distribution has built upon its assorted line card with the addition of Innovative Mounts and its line of high-performance engine mounts.
"Innovative Mounts designs and manufactures quality engine mounts at a great opening price point and has been highly popular in the Honda aftermarket community. Partnering with Innovative Mounts allows Turn 14 Distribution to provide our sport compact customers with well-engineered and complete engine mount solutions for Honda, Mitsubishi, Lotus, and more," said Kyle Shelley, Turn 14 Distribution's director of sales.
For over a decade, Innovative Mounts has created hundreds of performance engine mount kits for many of the world's most popular cars, according to the company.
Manufacturing has always been an essential part of the business of Innovative Mounts, and over the last 20 years, the company has created tens of thousands of products for customers all over the world. The company's factory in California utilizes state-of-the-art machinery and software that produce its industry leading products, according to Innovative Mounts. Products are designed, cut, bent, welded, power coated, finished and packaged all by the West Coast team. This allows them to not only produce products at a rapid pace but maintain strict QC standards throughout the process.
Engineering and product development teams have access to their own Romer arm and various 3D scanning tools.
For more information, visit turn14.com.