News
Turn 14 Distribution Adds Green Filter to Line Card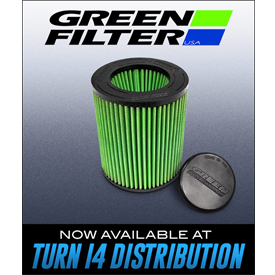 Turn 14 Distribution now includes Green Filter on its line card.
"Turn 14 Distribution will now offer Green Filters as part of our current lineup. With Green Filter's unique approach to filtration, we believe they will provide another strong filter option for our customers. Their ability to make custom filters and support the aftermarket community should be a great addition to our current assortment," said Kyle Shelley, Turn 14 Distribution's director of sales.
Long before Green Filter was manufacturing a single air filter for the street-legal machine, the company produced hundreds for the international motorsports industry. Green Filter's high performance air filters are used exclusively by some of the world's most formidable on-road and off-road racing teams.