News
Turn 14 Distribution Adds Gibson Performance Exhaust to Line Card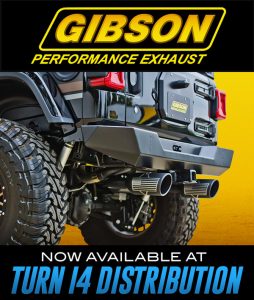 Performance automotive parts distributers Turn 14 Distribution has added the exhaust systems and exhaust components manufactured by Gibson Performance Exhaust to its line card.
"We're pleased to partner with Gibson Performance Exhaust and introduce the company's products to Turn 14 Distribution's customers," said Mo Ayad, divisional purchasing manager, Turn 14 Distribution. "Each one of the company's exhaust systems is flow-tested to provide the greatest gains in the usable powerband, and the audio testing equipment Gibson uses helps to ensure each system provides Gibson's signature sound, all at a price point we think our customers will appreciate."
Each Gibson Performance Exhaust product is available in aluminized steel or stainless steel and is emissions-legal in all 50 states. The installation of the company's products will not affect the vehicle's factory warranty. Gibson develops each system using modern computerized modeling software, then tested on the company's array of engine and chassis dynamometers.