News
Turn 14 Distribution Adds Ferrea Racing Components to Line Card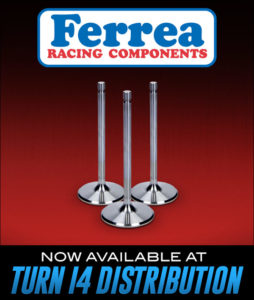 Performance parts distributor Turn 14 Distribution has added Ferrea Racing Components to its line card, further expanding its product range of valvetrain products, the company announced.
"Ferrea Racing Components is a 50-year-old manufacturer of engine valves, valve springs, retainers, rocker arms, valve seals, lifter shims and much more. This diverse product range will serve our core performance customers well. We are proud to add this iconic, family-owned brand to our line card," said Mike Malloy, Divisional Purchasing Manager, Turn 14 Distribution.
Ferrea Racing Components manufactures racing products for various types of engines in a wide range of categories. The company's technology allows it to provide the highest level of performance and reliability for its customers, the company said.