News
Turn 14 Distribution Adds Fabtech Motorsports to Line Card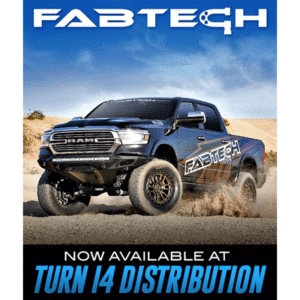 Turn 14 Distribution has added Fabtech Motorsports to its line card. Fabtech Motorsports' product line encompasses suspension components for Chevrolet/GMC, Ford, Dodge/Ram, Hummer, Jeep, Nissan, and Toyota trucks.
"We're excited to add Fabtech Motorsports products into our distribution centers," said Kyle Shelley, Turn 14 Distribution's director of sales. "These well-built products give our customers another option for lift and leveling kits. Fabtech is a brand they've requested, and we're proud to be able to bring them products from one of the leaders in off-road suspension components."
Fabtech's extensive research, design technology and rigorous testing result in high performing suspension system for discerning off-road enthusiasts.
The company has invested into proprietary development processes and technologies to aid in properly designing new vehicle suspension systems, according to Fabtech. In-field testing and multiple vehicle fit checks ensure products will fit properly during installation and provide years of trouble-free service with superior vehicle ride qualities.
Fabtech builds all of its componentry in house and the company has received numerous awards for its designs.
Visit turn14.com for more information.