News
Turn 14 Distribution Adds Extang to Line Card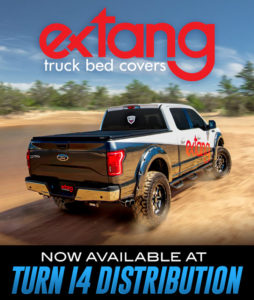 Performance parts distributor Turn 14 Distribution has increased its assortment of available truck bed covers with the addition of Extang to its line card, the company announced.
"Extang is a household name in the truck bed cover market and the brand complements our existing range of truck bed covers. The product line covers the gamut of quality folding, rolling, snap, and snapless bed covers that perform beyond truck owners' highest expectations. Extang has recently reinvigorated their iconic Solid Fold and Trifecta product lines with the upgraded 2.0 versions, a welcomed change that once again raises the bar in the truck bed cover market. This innovation is what makes Extang a leader in the space and a no-brainer addition to the Turn 14 Distribution line card." said Alex Lesslie, divisional purchasing manager, Turn 14 Distribution.
Extang was founded in 1982 and has since introduced many styles and features found in the truck bed cover market. Extang builds its products in Ann Arbor, Michigan. In March of 2007, Extang joined the Truck Hero, Inc. family of brands.