News
Turn 14 Distribution Adds Exergy Performance to Line Card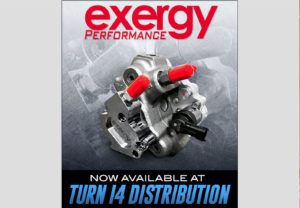 Turn 14 Distribution has added Exergy Performance to its line card.
"Exergy Performance provides high-performance diesel fuel products for nearly every diesel application," said Kyle Shelley, Turn 14 Distribution's director of sales. "We are proud to announce that Turn 14 Distribution will carry Exergy Performance products going forward. This will provide our customers with an excellent selection of diesel fuel products from a company known for their attention to detail."
Exergy Performance is a division of Exergy Engineering focused on the unique needs of high-performance diesel applications. The company has a long history in the world of diesel fuel injection, as well as a background in OE development and manufacturing.
Exergy Engineering began in 1944 when, as part of General Motors, its former department began producing mechanical unit injectors for Detroit Diesel Corp., before becoming an independent entity. The company was purchased by the Robert Bosch Corp., where it participated in the design, development and manufacturing of the Bosch common rail systems currently used by the Big 3.
After a consolidation of engineering resources, the group ventured out again on its own as Exergy Performance. Exergy offers injectors, pumps and accessories for nearly every diesel application, as well as custom product offerings.