News
Turn 14 Distribution Adds EvoCharge to Line Card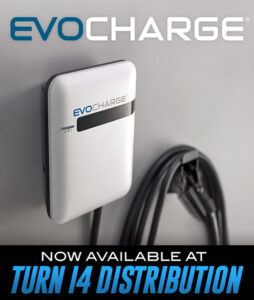 Performance parts distributor Turn 14 Distribution has added electric vehicle charging station producer EvoCharge to its line card, the company announced.
"EvoCharge is a leading manufacturer of Electric Vehicle (EV) charging and cable management solutions. The 1.1MW solar carport and eight EV chargers installed at our Horsham, [Pennsylvania] headquarters show our early commitment to the renewable energy sector. We are very excited to offer EvoCharge to our diverse customer base," said Mike Malloy, director of purchasing, Turn 14 Distribution.
EvoCharge provides Open Charge Point Protocol (OCPP) Electric Vehicle Supply Equipment (EVSE) charging stations and cable management solutions.