News
Turn 14 Distribution Adds Thule to Line Card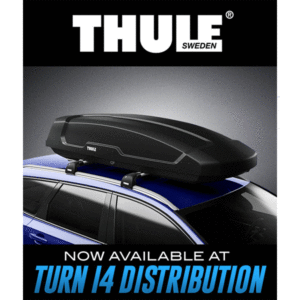 Turn 14 Distribution has expanded its line card with the addition of Thule to its distribution centers.
"Thule is a premier manufacturer of mounting systems for outdoor active gear designed to transport a vehicle owner's prized possessions to the places they love most, and we are proud to able to offer the company's products to our customers," said Kyle Shelley, Turn 14 Distribution's Director of Sales. "Thule's bike racks offer superior strength and security, and have been designed to be easy for the consumer to use. The roof racks and cargo carriers help to maximize space inside the vehicle for the occupants, while providing them the opportunity to haul more gear to more places."
Thule manufactures bike racks, roof racks, cargo carriers and baskets, and winter and water sport racks to help vehicle owners transport their sun, surf, ski, and snowboard gear to the places that spark their excitement for the world around them.
Thule was established in Sweden in 1942. The company ever since has been on a mission to bring people closer to the world and their passions for life, according to Thule. The company believes in the value of an active life, whether living in the city or exploring the great outdoors.