News
Turn 14 Distribution Adds Westin to Line Card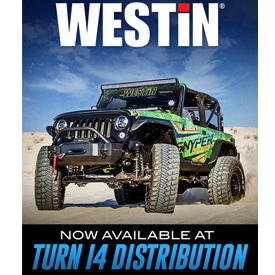 Turn 14 Distribution has added to its line card with the arrival of Westin Automotive.
"Westin has been a staple in the truck and off-road market for decades. Their product lines resonate with customers as the popularity of Westin's bumpers, tool boxes, and other truck accessories continues to grow. Turn 14 Distribution believes that the addition of Westin will further cement our presence as a leading distributor in the off-road segment," said Kyle Shelley, Turn 14 Distribution's director of sales.
Westin Automotive produces off-road products for the aftermarket. The company almost 40 years ago was built on the philosophy that a product should work well, look good, and last long.
Westin Automotive products are designed, tested, and engineered in San Dimas, California.