News
Turn 14 Distribution Adds LUND to Line Card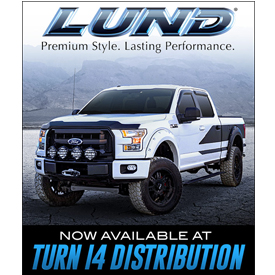 Turn 14 Distribution has expanded its truck accessories assortment once again, this time with the inclusion of LUND's extensive product line.
"LUND's addition to our line card is very exciting and is part of our commitment to provide our customers who are focused in the truck accessories market with a vast assortment of product. LUND's quality, catalog, and style are all behind what drives the high demand for the brand among truck and SUV owners. Vehicle customization is a core goal of any automotive enthusiast and LUND manufactures a plethora of options that Turn 14 Distribution can now offer the market," said Kyle Shelley, Turn 14 Distribution's director of sales.
LUND is one of the longest running brands in the truck accessory industry. Whatever truck and SUV customers are looking for, chances are that LUND will already have it, according to the company.
The company began in 1965 when Allan W. Lund, an entrepreneur highly skilled in the design of fiberglass products, decided to start his own company. In 1974, he began making sun visors functioning much like a baseball cap, except for trucks.
By the late 1970s, the light truck market was growing, and LUND added accessories for light trucks to its product selection. Recognizing the need to expand product selection and also ways to sell its products, LUND established an authorized dealer program for auto parts stores, auto body and trim stores, and car washes.
Product sales were significantly boosted by dealers who customized new trucks before they left the sales lot. Soon, the company was offering 20 additional product lines, including bug shields, fender extensions, running boards, and grille inserts. Running boards were one of the company's fastest growing products from this period. LUND truck packages became so popular that people began asking for the LUND look, according to the company.
For additional information, visit turn14.com.