News
Turn 14 Distribution Adds Wilwood To Line Card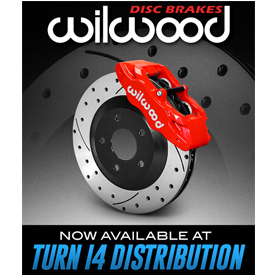 Turn 14 Distribution is continuing to expand upon its brand offerings with the addition of Wilwood Engineering and its line of high-performance disc brake systems and components to its line card.
"Wilwood is recognized as a premier manufacturer of quality performance brake components that are used in all forms of motorsports. From complete brake systems to brake lines and pedals, Wilwood offers a variety of braking products for an extensive range of applications. These same Wilwood products are now in stock at Turn 14 Distribution and we are proud to be able to offer them to our customers." said Kyle Shelley, Turn 14 Distribution's director of sales.
Wilwood Engineering designs and manufactures high-performance disc brake systems. Since the company's inception in 1977 by Bill Wood, it has developed a substantial matrix of brake components and engineering techniques that allow the company to quickly and reliably create brake systems for almost any application, according to Turn 14 Distribution. Wilwood's core ability is the rapid development of custom engineered brake systems using a combination of off-the-shelf and custom components.
Wilwood has on-shelf stock of more than 300 different brake calipers, 200 rotor designs, 100 master cylinder designs and a wide assortment of brackets, fittings, valves and brake lines. Wilwood's engineering department uses the latest computer-aided design and manufacturing techniques in conjunction with finite element analysis, dynamic test and cycle test equipment, to find high-performance and reliability solutions for the most difficult braking tasks. The company's extensive inventory of proprietary on-the-shelf components allow it to provide cost- effective solutions for unique brake applications.