News
Turn 14 Distribution Adds Edelbrock to Line Card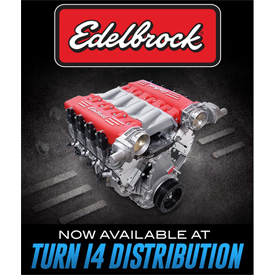 Turn 14 Distribution has increased its product assortment with the addition of Edelbrock to its ever-growing line card.
"The addition of Edelbrock to our line card helps us to fulfill the demand our customers have for premium aftermarket performance parts," said Kyle Shelley, Turn 14 Distribution's director of sales. "Adding Edelbrock permits Turn 14 Distribution to continue to grow our domestic parts line in order to meet product requests from our customers for carburetors, cylinder heads, intake manifolds, and more. We are pleased to partner with such a well-established brand that is synonymous with performance and quality in the marketplace."
Edelbrock is a state-of-the-art manufacturing corporation, with six different locations in California covering over 500,000 square feet of space, with a solid foundation rooted in the past and a vision for the future, according to the company. In addition to Edelbrock's wide range of manufacturing, the company has invested in research and development, testing, advertising, and technical support. From fuel pumps, head gaskets, throttle bodies, manifolds, timing covers, carburetors, and other various transmission and engine components for performance cars, Edelbrock manufactures it all in its U.S. facilities.
"Build it right, or don't build it at all," has been a mission for Edelbrock since inception. That same pursuit of perfection is what has helped Edelbrock become recognized as one of the industry's top manufacturers for high quality automotive performance parts, according to the company.
For more information, visit turn14.com.