News
Turn 14 Distribution Adds Eaton to Line Card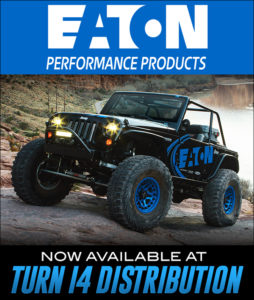 Performance parts distributor Turn 14 Distribution has expanded its range of drivetrain performance components by adding Eaton to its line card, the company announced.
"Eaton is an established power management company that manufacturers thousands of industrial, aerospace, home and automotive products. The company's aftermarket automotive catalog includes quality differentials and ring and pinion sets for various track, street or off-road uses. The Eaton brand is a familiar site at drag strips across the U.S., where racers have depended on it to maximize traction and engine power for generations. Like Turn 14 Distribution, Eaton is a forward-thinking company ready to adapt to the changing automotive market, and we are elated to partner with them for the future," said Mike Malloy, director of purchasing, Turn 14 Distribution.
Each Eaton Performance product is tested and validated in the company's fully equipped labs and 650-plus acre proving grounds, the company said. Eaton's brands include the Detroit Locker, Detroit True Trac, ELocker, Posi and competition/street ring & pinion product lines.