News
Turn 14 Distribution Adds Dynojet to Line Card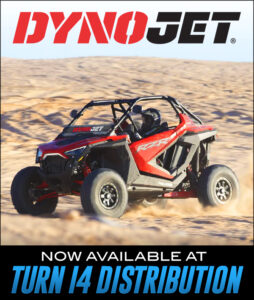 Performance parts distributor Turn 14 Distribution has added Dynojet, a manufacturer of a wide range of products for motorcycle and powersports applications, to its line card, the company announced.
"Dynojet is a leading manufacturer of tuning/monitoring devices, fuel controllers, carburetor jet kits, quick shifters, and high-performance clutches for most Powersports applications. The Dynojet catalog offers countless performance upgrades for UTV, Harley Davidson, Indian, Japanese and European motorcycles. We are proud to move forward with this win-win partnership and stock Dynojet for our ever-expanding UTV and motorcycle customer base," said Mike Malloy, director of purchasing, Turn 14 Distribution.
Dynojet has optimized powersports vehicles since 1973, and from its early Jet Kits that maximize a motorcycle's air/fuel ratio to its Power Vision, Dynojet is constantly creating new Powersports vehicle parts to help our customers push the limit, the company said.