News
Turn 14 Distribution Adds Dirty Life Wheels to Line Card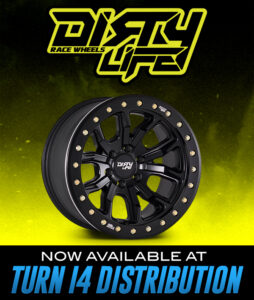 Performance parts distributor Turn 14 Distribution has brought on a new selection of truck wheels with the addition of Dirty Life Wheels to its line card, the company announced.
"Dirty Life Wheels are a part of The Wheel Group (TWG) wheel brands, and the product styles cater to the more traditional offroad and adventure audience looking for a quality yet affordable wheel upgrade. With a vast catalog of wheel styles, fitments and colors, the most popular product for the brand is 17-inch Jeep Wheels. In addition, Dirty Life Wheels offers a line of true Beadlock wheels, bringing another unique product group to our line card. Dirty Life Wheels will fit in well with our truck product dealers and Turn 14 Distribution is excited to grow our partnership with TWG," said Alex Lesslie, divisional purchasing manager, Turn 14 Distribution.
Dirty Life Wheels is part of TWG, which has been a manufacturer and distributor for over 45 years. TWG specializes in aftermarket automotive wheels, bumpers and accessories. Headquartered in Ontario, California, TWG has a network of 20 distribution facilities in major cities throughout the USA and Canada.
Dirty Life Race Wheels offers wheels for race and street applications and employs cutting-edge technology and advanced engineering to shape a wheel that delivers substantial quality and steadfast performance in the most rigorous environments, the company said.