News
Turn 14 Distribution Adds CSF Performance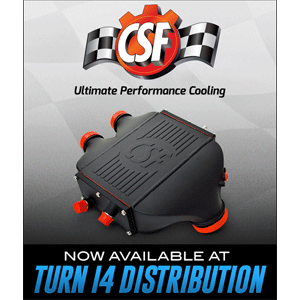 Turn 14 Distribution has added CSF Performance to its line card.
"CSF Performance has made a name for themselves as a leading provider of cooling products. CSF's intercoolers, radiators, and charge air coolers will further enhance our performance offerings for a wide range of vehicles," said Kyle Shelley, Turn 14 Distribution's director of sales.
CSF Performance has been serving the U.S. aftermarket for almost four decades. With more than 30 million units sold, CSF Performance is a source for radiators, condensers, intercoolers, inverter coolers, racing radiators, and pressure caps, according to the company.
CSF Performance's factories are ISO certified, which is valuable to the company as it supplies OEMs in the U.S., Germany, and in Asian markets.
"When you purchase a CSF Performance product, you can rest assured that it has been manufactured on the same production lines with the same high quality standards as their OE customers," the company stated in a news release. "Every single radiator is subject to rigorous testing procedures such as hydrostatic testing, vacuum decaying, and lifecycle testing, and is designed to always be a drop-in fit."
The racing & high-performance division at CSF Performance engineers and builds advanced, efficient, and reliable cooling systems. CSF Performance also manufacturers a wide variety of sophisticated cooling systems with more than 117 different applications ranging from high-performance all-aluminum direct-fit replacement radiators, to complete custom applications for racecars, power sports, off-road, marine, and industrial uses.
For additional information, visit at Turn14.com.