News
Turn 14 Distribution Adds Cosmis Racing Wheels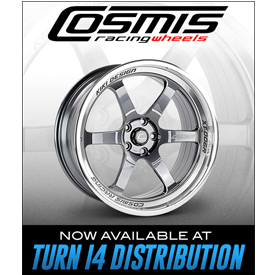 Turn 14 Distribution has expanded its wheel offerings with the addition of Cosmis Racing Wheels to its ever-growing line card.
"Turn 14 Distribution continues to productively listen to our customers' needs and requests and to that end we have partnered with Cosmis Racing Wheels. They offer a variety of wheel designs, colors, and sizes that are extremely popular within the sport compact market," said Kyle Shelley, Turn 14 Distribution's director of sales. "Every sport compact event or show features dozens of vehicles sporting Cosmis Racing Wheels and these same wheels are now in stock at Turn 14 Distribution."
Cosmis Racing Wheels has been manufacturing and distributing aftermarket wheels worldwide for more than 10 years. Its wheels feature incomparable designs that utilize both low pressure cast construction, as well as flow form technology. The company is constantly pushing the industry standard by releasing new sizes, eye-catching finishes, and innovative designs that appeal to a vast market of consumers. Cosmis also has a large motorsports presence in Formula Drift and other series based around the world.