News
Turn 14 Distribution Adds BMR Suspension to Line Card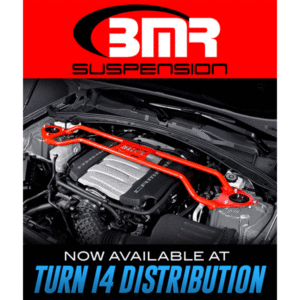 Turn 14 Distribution has added Tampa, Florida-based BMR Suspension to its line card.
"BMR is widely known for their exceptional chassis and suspension parts. They are popular with a majority of our customers both racers and street cars alike, which is why they will make an excellent addition to our current offerings," said Kyle Shelley, Turn 14 Distribution's director of sales.
BMR Suspension opened in 1998 with the mission of fulfilling performance automotive enthusiasts with innovative suspension products. The company currently offers chassis, suspension, and drivetrain products for 22 different vehicles applicable to street performance, drag racing, or handling.
At BMR Suspension, American workers cut, bend, notch, drill, mill and package components from American-made DOM and chrome-moly steel, according to the company. Every product is fixture-welded to maintain consistent quality. Workers bead-blast parts and then powdercoat them using BMR's in powdercoating line.
BMR Suspension are street driven and track tested on BMR project vehicles. BMR Suspension has a host of project cars both past and present that are used as assets in product development. BMR employees have a long list of project vehicles as well, and virtually every BMR employee is a racer or hot rodder, according to the company.
For additional information, visit www.turn14.com.