News
Turn 14 Distribution Adds Black Rhino Hard Alloy Wheels to Line Card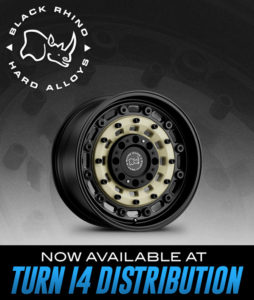 Turn 14 Distribution, an aftermarket performance parts distributor, has added to its wheel assortment with the addition of Black Rhino Hard Alloy wheels to its line card.
"Black Rhino offers a massive assortment of wheels for trucks, SUVs, Crossovers, Jeeps, Subarus, camper-style vans, and even side-by-side off-road vehicles. With cast, Rotary Forged™, and forged monoblock wheels available, Black Rhino has a wheel to fit the price point for any consumer," said Mike Malloy, divisional purchasing manager, Turn 14 Distribution. "The company regularly adds new styles that appeal to truck and SUV owners, and we are excited to grow together with the Black Rhino family."
Black Rhino Hard Alloy wheels are manufactured with all types of street and off-road vehicles in mind. The company offers a wide variety of cast, Rotary Forged, and fully forged monoblock negative offset wheels that work with trucks and SUVs, especially those with lift kits. The wheel fitments have been optimized to provide an aggressive look for off-road vehicles.
Black Rhino Hard Alloys also offers more street-friendly width and offset configurations to provide an upgrade for a customer's truck, SUV or CUV crossover. Offsets for these vehicles are more positive and will still allow the end-user to use the wheels on a vehicle with a mild lift or stock suspension components.
Black Rhino Hard Alloys come in a variety of 14, 15, 16, 17, 18, 20, 22, and 24-inch sizes across a broad assortment of finishes. Wheels are manufactured in 5, 6, and 8-lug fitments to suit the customer's truck or SUV.