News
Turn 14 Distribution Adds Baja Designs Lighting Systems to Line Card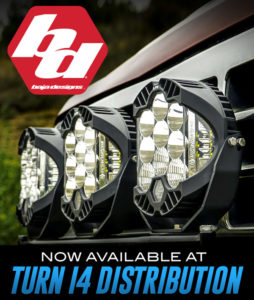 Turn 14 Distribution, an aftermarket performance parts distributor, has added Baja Designs' high-performance lighting systems and components to its line card.
"The high-quality lighting products from Baja Designs are proven in off-road racing all around the world, and today they manufacture both off- and on-road lighting solutions for direct-fit and universal applications," said Mo Ayad, divisional purchasing manager, Turn 14 Distribution. "The success of its lighting products on the racetrack, combined with Baja Designs' efforts to manufacture its direct-fit auxiliary lighting systems to provide the supplemental light consumers need, position it well in the marketplace. Turn 14 Distribution is looking forward to a mutually beneficial relationship with Baja Designs."
Baja Designs engineers and manufactures its American-made products in San Diego, California.
Baja Designs was the first company to develop a forward-projecting LED light bar, which was introduced and used in the 2005 Baja 1000. Baja Design's off-road LED lights and other lighting systems have won every professional and amateur motorcycle and TV Baja 1000 class award for over 15 years.