News
Turn 14 Distribution Adds BackRack to Line Card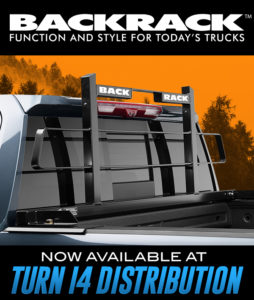 Performance parts distributor Turn 14 Distribution has expanded its line card with the addition of BackRack's line of truck racks and accessories, the company announced.
"BackRack is known as a pioneer in the cab guard market for pickup trucks. The company is recognized for its superior quality and direct approach to manufacturing cab guards, side rails and accessories. Each product is functional, stylish, and provides a solution for customers seeking the ultimate protection for work trucks. Turn 14 Distribution is delighted to strengthen its partnership with Truck Hero and offer BackRack's innovative truck products to our customers," said Mohammed Ayad, divisional purchasing manager, Turn 14 Distribution.
BackRack has been manufacturing truck racks since 1988, provides cab guards for pickup trucks and develops products that are compatible with other accessories, the company said.