News
Turn 14 Distribution Adds Antigravity Batteries to Line Card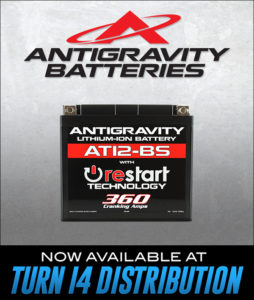 Performance parts distributor Turn 14 Distribution has added Antigravity Batteries to its line card, the distributor announced, marking the first time the company has brought on a full battery line.
"Antigravity Batteries specializes in lithium batteries, which are 'non-spillable' and, combined with little to no discharge during shelf-life, allows Turn 14 Distribution to now offer a full range of premium battery solutions. Antigravity Batteries selection is broken down into two core segments: automotive and powersports. The company's commitment to innovation allowed it to bring to market its RE-START technology, the first-ever automotive battery with built-in jump starting. In addition, the brand offers other charging accessories, such as its popular Micro-Start jump-starter, which enables us to provide a highly demanded product segment to our customers," said Alex Lesslie, divisional purchasing manager, Turn 14 Distribution.
Antigravity Batteries was established in 2009 with the idea to offer high power, lightweight and compact lithium-ion batteries to those racing motorsports vehicles and later grew to expand its product line for use in everyday and weekend vehicles, the company said. Antigravity Batteries offer lithium-ion batteries in 6-volt, 12-volt and race-oriented 16-volt models, as well as jump starters and jump starter accessories. Additionally, the company offers batteries in drop-in fit OEM sizes as well as small case ultra-compact models for almost all motorcycles and powersports vehicles.