News
Turn 14 Distribution Adds AMP Research to Line Card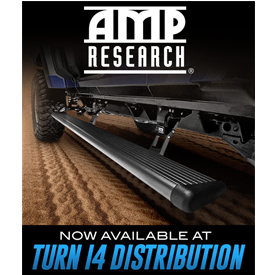 Turn 14 Distribution has added AMP Research to its line card, further extending the company's truck accessory offerings.
"With the addition of AMP Research, Turn 14 Distribution is excited to provide our customers with innovative running boards and bed step solutions. AMP Research holds a long list of patents that display the company's dedication to being a pioneer in the market. Quality manufacturing and an industry leading warranty have made AMP Research a highly demanded brand for truck and SUV accessories," said Kyle Shelley, Turn 14 Distribution's director of sales.
AMP Research is an American design and technology company, located in Tustin, California, that invents, builds and markets products designed to improve the function and utility of cars, light trucks and SUVs.
AMP Research is an OE supplier of car and truck accessories for Chrysler, Ford, GM, Honda, Hyundai, Mazda, Mercedes-Benz, Mitsubishi, Nissan, Subaru, Suzuki and Toyota. Automotive accessory products designed, manufactured and marketed by AMP Research include PowerStepTM running boards, BedStep, BedStep2TM truck bed access steps, BedXTender HDTM cargo cage for pickup trucks, and AMP Research alloy fuel doors. According to the company, AMP Research holds over 45 U.S. and international patents for automotive and transportation related products.