News
Turn 14 Distribution Adds AlphaRex to Line Card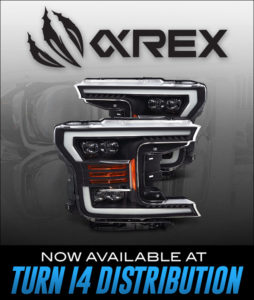 Performance parts distributor Turn 14 Distribution has added AlphaRex, a manufacturer of the high-performance lighting company, to its line card.
"AlpahRex offers a unique product in the lighting arena, offering impressive full LED output or halogen headlight options. The company's signature NOVA-Series full LED headlights feature unique Ice Cube 3D projectors similar, but superior, to many premium OEM manufacturers. Turn 14 Distribution is excited to partner with this novel brand and collaborate further to grow its catalog and presence in the aftermarket industry," said Mo Ayad, divisional purchasing manager, Turn 14 Distribution.
AlphaRex specializes in designing and manufacturing automotive aftermarket performance lighting. The company's goal is to produce lighting products and technology that are unrivaled. With patented full LED technology, the Nova-Series LED headlights marked the debut of AlphaRex as a distinctive brand.
With 20 years of manufacturing experience, AlphaRex designs its lights from scratch, patents every component and guarantees its products are compliant with the SAE and DOT requirements, the company says. AlphaRex products are also certified to ISO-9000, ISO-9001, and ISO-9002 standards.