News
Turn 14 Distribution Adds Alcon Components to Line Card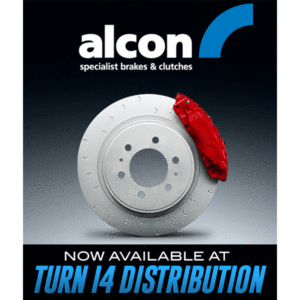 Turn 14 Distribution has added to its line card with the introduction of brake systems from Alcon Components.
"The addition of Alcon Components and its high-quality line of direct-fit big brake systems offers Turn 14 Distribution's customers a one-stop solution for the specific vehicles the company supports," said Kyle Shelley, Turn 14 Distribution's director of sales.
"Kits are available to fit the Jeep JK and JL platforms, the BMW M3 F80 chassis, and Nissan Skyline GT-R R35. Alcon has also developed the leading big brake kit on the market for the Ford F-150/Raptor, and has plans to continue adding to this product line in the future, with F-250/F-350 kits coming later this year, among others."
Alcon was established in 1983 by engineer and sports car racer John Moore. The company initially made brakes for Audi Sport's Group B Quattro rally cars.
The company today provides braking solutions for the top echelons of motorsport, all from its factory and HQ in Tamworth, England, according to the company. Alcon supplies parts around the world for motorsports, as well as for OEM and performance aftermarket sectors.
Alcon's latest motorsports connections include some of the best teams in World and Global Rallycross, all cars in the Formula E series, and a number of teams in the off-road series of America.