News
Turn 14 Distribution Adds Akrapovič Evolution Line Exhaust for Mercedes-Benz G Class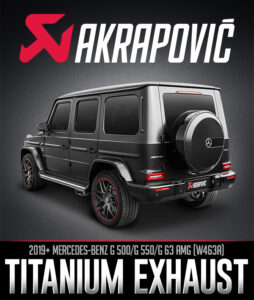 Akrapovič has released its Mercedes-Benz G 500/G 550/G 63 AMG (W463A) Evolution Line (Titanium) exhaust system, which is now exclusively available at Turn 14 Distribution, the sole U.S. automotive distributor for Akrapovič, the company announced.
The Evolution Line (Titanium) for the Mercedes-Benz G 500 was crafted using high-grade, durable, lightweight titanium, making it 45% lighter than the stock system, the company said. Fashioned in the Akrapovič foundry, this exhaust system is finished with specially designed tailpipes exiting on either side of the vehicle and is routed to fit within limited space.
With a pair of exhaust valves behind the rear mufflers to provide optimal control of the exhaust tones, this system delivers a unique sound that is deeper and sportier, especially during acceleration and shifting, the company said. Power and torque levels are increased through the entire rpm range, with recorded gains of 11 hp at 4,500 RPM and 14 lb-ft of torque at 4,000 RPM over the stock exhaust system.