News
Turn 14 Distribution Adds ADVAN Racing Wheels to Line Card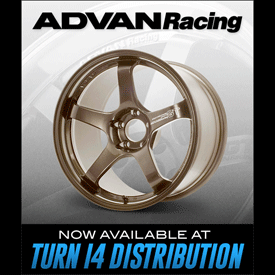 Turn 14 Distribution has added ADVAN Racing Wheels to its line card.
"Turn 14 Distribution is further expanding our wheel offerings with the addition of ADVAN Racing Wheels to our lineup," said Kyle Shelley, Turn 14 Distribution's director of sales. "ADVAN Racing Wheels are an excellent option for those seeking style and functionality. The company's dedication to providing premier designs, paired with lightweight and high-strength technologies, make ADVAN Racing Wheels a highly sought-after brand in the performance aftermarket."
ADVAN Racing Wheels is a division of the Yokohama Rubber Co. ADVAN Racing Wheels was created to bring advanced wheels to complement Yokohama tires. Using several methods such as mold form forging, spin forging, and flow form casting, ADVAN Racing Wheels are one of the strongest and most reliable wheel brands from Japan, according to the company.