News
Turn 14 Distribution Adds AccuAir to Line Card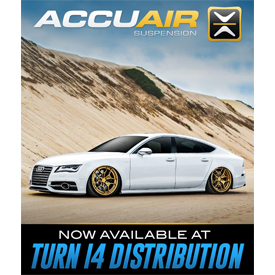 Horsham, Pennsylvania-based Turn 14 Distribution has added AccuAir to its line card.
AccuAir was founded in 2001 by brothers Reno and Dustin Heon.
"AccuAir will be an excellent addition to our current lineup, offering dealers their choice of several complementary product lines. From full suspension kits and air management systems, to replacement air accessories, our dealers will have limitless air suspension options to cater to each of their customers' needs," said Kyle Shelley, Turn 14 Distribution's director of sales.
"AccuAir has created a team of talented individuals that are passionate about vehicle suspension design. Their team is composed of credentialed mechanical engineers, electrical engineers, software developers, technical literature and graphics specialists, and top skilled manufacturing technicians."
AccuAir applies its practices to multiple automotive industries and beyond. AccuAir creates specialized product lines to serve the custom-car aftermarket as well as OEM/utility-vehicle industries. In addition, AccuAir's Custom Solutions division provides engineering, development, and manufacturing services to discerning clients requiring creative solutions, according to the company. AccuAir's portfolio of projects includes customers such as The Boeing Co. and DaimlerChrysler.