News
Turn 14 Distribution Adds 3D MAXpider to Line Card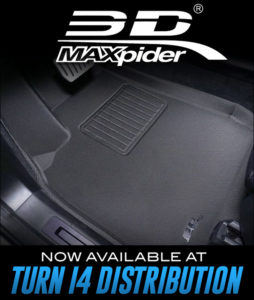 Performance parts distributor Turn 14 Distribution has added 3D MAXpider's line of floor mat and interior accessories to its line card, the company announced. The products offered by 3D MAXpider provide various options to the consumer for vehicle protection and organization.
"Turn 14 Distribution is excited to add 3D MAXpider to our distribution centers. These have gained a following amongst the luxury brands such as BMW and Mercedes and have become the go-to floor mat for Tesla owners," said Alex Lesslie, divisional purchasing manager, Turn 14 Distribution. "3D MAXpider carefully developed its innovative XPE inner layer to reduce driver fatigue and dampen sound while offering substantial vehicle protection. The mats are lasermeasured for a perfect fit and offer an anti-skid design. Along with the company's other products, they provide vehicle owners with solutions to personalize their vehicles."
Over the years, the 3D MAXpider team has been continually expanding its product collection. The growing assortment of products includes contoured floor liners, the Wintect all-season windshield cover, Soltect custom sunshades and interior styling accessories. 3D MAXpider also manufactures roof boxes, baskets and racks, along with seat covers and trunk storage containers.