News
Torqued Distribution Opens Detroit Warehouse & Sales Office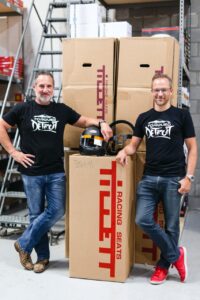 Torqued Distribution has officially opened its all-new Detroit warehouse and National Sales office, the company announced.
Headquartered in San Francisco, California, Torqued began by importing hard to find racing and performance brands from England and Europe. The first brand imported was Tillett Racing Seats, the company said.
Today, Torqued maintains the U.S. Sole Distributor status for Tillett Racing, Nuke Performance, obp Motorsport, and others as well as distributing brands including Holley, Bell Helmets, CSF, Detroit Muscle, MOMO Italy and XClutch, the company said.
"We've doubled the number of brands on our line card in the last year and we're adding new dealers every day. Expansion has always been in the business plan, and we're elated to have a footprint in the Motor City," said Tim Trampedach, Torqued Distribution CEO.
"We've got the Detroit Grand Prix, M1 Concourse, Woodward Ave, the Big 3 and the new SEMA Garage just down the road," said Lou Lobsinger, Torqued Detroit's general manager and head of sales and marketing for the company. "There is no better place to be than here in Detroit, especially as we introduce new technology through our WaaS and NC3PL programs."