News
Torklift Launches Retail Product Development Center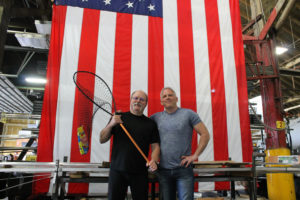 Torklift International has launched a retail product development center (RPDC) in Kent, Washington, to escalate its emphasis on new-product development.
"The RPDC is a separate location from our manufacturing unit," said Torklift president Jack Kay. "It houses our engineering, design, marketing and technician teams. We actually meet with retail customers in person and talk with them about their various product needs and design custom products for their vehicle or RV. We even work with customers to develop all-new product lines that don't exist on the market, and from there we mass produce them in our manufacturing unit."
Darrel Hagglund last spring was appointed director of product development for Torklift to oversee the RPDC program. He began with Torklift in 2010 and has worked in various departments, including sales and customer service. He was promoted to customer service director and now serves as new product development director.
"The opportunity to imagine a concept, talk it over and ultimately see it come to life each step of the way is the most unique part of heading up new product development at the RPDC," Hagglund said.
Earlier in his Torklift career, Hagglund developed the PowerArmor DH, a locking battery box mass produced by Torklift (the DH stands for Darrel Hagglund). He has been in the RV and automotive industries for more than 30 years.
"Darrel has a unique experience with Torklift that makes him exceptional for his new role," Kay said. "He has worked one-on-one with customers to develop products and help them solve problems they face at the campsite, and he even developed a successful product line."
Since launching the RPDC program, several new product lines have been expedited to market, including the Cannon extension, a hitch extension that works with the 3-inch receiver opening that comes standard on 2017-'19 Ford Super-Duty trucks. A front receiver line is in the works at the RPDC, according to Kay.
"What we are most excited about," Kay said, "is the retail customer reaction of our RV step offering in the GlowStep Revolution line, which is what is ultimately driving OEM adoption of this patented step system."