News
Top Prize Competition at Grand National Roadster Show is More Crowded Than Ever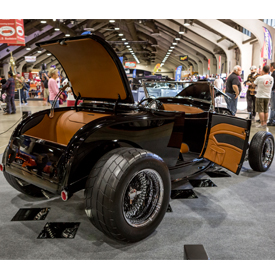 The Grand National Roadster Show is returning to the Fairplex in Pomona, California from Jan. 26 through 28. The show, founded in 1949, will feature over 1,000 show cars, including hot rods, customs, low riders and motorcycles, as well as special exhibitions highlighting muscle cars and traditional hot rods.
The field competing for the coveted America's Most Beautiful Roadster (AMBR) award is the biggest in the show's history with 16 cars in the running. Some competitors include Dominator Street Rods, Hot Rods and Hobbies, celebrity car builder Rick Dore, and designer Jimmy White.
The winner will have their name engraved on the massive 9-foot tall perpetual trophy along with receiving a $10,000 prize. Previous AMBR award winners include legendary builders like Boyd Coddington, George Barris, Chip Foose, Blackie Gejeian and 2017 winner Troy Ladd of Hollywood Hot Rods.
Known by many as The Grand Daddy of Them All, the show draws a diverse and vast selection of cars to the Fairplex every year. Beyond the usual categories, this year's special exhibits include unique displays for muscle car and hot rod enthusiasts.
First, the American Muscle Car Gathering will feature over 100 muscle cars in a single hall, each a rare, stock or restored example-the best of their respective make and model.
Next, the Rolling Bones display will feature nearly every example of hot rod from iconoclastic builder Rolling Bones, which transformed the street rod scene with a strict adherence to land-speed inspired aesthetics and traditional build techniques. Rolling Bones cars will be showcased in dioramas depicting the Bonneville Salt Flats, The Race of Gentlemen beach race and a speed shop. The Lifestyles Car Club will also showcase an array of low riders in a year that has focused on the importance of Lowrider culture in Southern California.
Automotive icons will be in attendance throughout the show weekend, including Dave Kindig and Kevdog from Kindig-It Design and Velocity's Bitchin Rides, who will be doing appearances and autograph sessions over the course of the show. Builders including Troy Trepanier, Roy Brizio, Steve Strope, Bobby Alloway and more will be on hand, and the Road Kings Car Club will be bringing the TV Tommy Ivo dragster with Tommy himself making an appearance.
The GNRS will also feature a vast array of manufacturers displaying their wares throughout the show. Another highlight is the Pinstriper Charity Auction in building four, where some of the most talented pinstripers in the country will be selling their work and striping live with all proceeds going to benefit Camp Conrad Chinnock, a camp for children with Type 1 Diabetes, sponsored by PPG.
The show runs from noon to 8 p.m. on Jan. 26, 10 a.m. to 8 p.m. on Jan. 27 and 10 a.m. to 6 p.m. on Jan. 29.
For more information about the Grand National Roadster Show, please visit rodshows.com/gnrs/.