News
Tool Dealer Expo Exhibitors Plan Garage Equipment Giveaway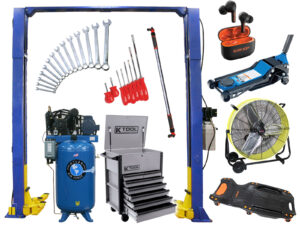 K-Tool International and Atlas Automotive Equipment are collaborating to give away a garage setup to a Tool Dealer Expo 2023 attendee, the companies announced.
The Tool Dealer Expo 2023, which runs from June 9-10 in Orlando, Florida, provides attendees with a sneak preview of the exhibitors' latest automotive products and equipment being introduced at the expo, organizers said.
Customers will have the opportunity to earn multiple entry tickets based on purchases at the K-Tool or Atlas booths, the companies said. On June 10, the winner of the "Dream Garage Giveaway" will be announced at the Tool Dealer Expo awards dinner hosted by ISN.
According to the sponsoring companies, the package is valued at more than $13,000 and includes over 60 items includes a two-post clear floor overhead lift, five-gallon air compressor, hand tools, tool storage, jacks, fans, creepers and more.
"Atlas and K-Tool are proud to be part of the 'Dream Garage Giveaway' at Tool Dealer Expo," said Mike Israel, brand manager, Atlas Equipment. "This giveaway provides an automotive enthusiast the opportunity to create the garage of their dreams, and we encourage everyone attending to participate."