News
Tint World's International Presence Expands to Dubai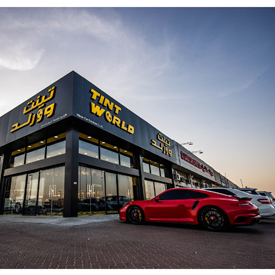 Tint World Automotive Styling Centers has entered the United Arab Emirates market with its first store in Dubai. The new store is owned and operated by Khalil Hijazi. The store celebrated its grand opening on July 20.
The friendship between Hijazi and Tint World CEO Charles J. Bonfiglio ultimately led to Hijazi's acquisition of a master franchise license for the UAE and plans to open as many as six stores in the country.
"Khalil's background as an entrepreneur and Dubai's passion for cars make this a perfect fit for the Tint World family," Bonfiglio said. "He and his family have a lot of business experience in the region, and they have the knowledge and financial resources necessary to enter a new, competitive market. This is an important and exciting new phase for the Tint World brand, and we wouldn't be making this leap without a partner we trust."
Hijazi attributes his entrepreneurial vision to his family, which instilled a sense of enterprise as well as a grounding in faith and ethics. Hijazi also manages his family's businesses in education, automotive, construction, and the medical field and teaches a class on entrepreneurship for high-school students, he said.
"Entrepeneurship and education are a way of life for me," Hijazi said. "I've been involved in business since I was 13, and establishing the Tint World brand in the Dubai market is an enormous opportunity. Charles' record of success speaks for itself."
The Dubai location marks the second store in the Arabian Gulf, with the first being in Saudi Arabia. Tint World is seeking franchise master partners to continue to develop Tint World in the area, specifically in Bahrain, Kuwait, Oman, and Qatar.