News
Tint World Opens in Eastern North Carolina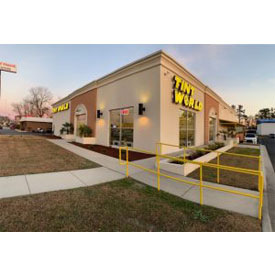 Tint World Automotive Styling Centers has opened a new store in Jacksonville, North Carolina, owned and operated by local entrepreneur David "Kit" Pelletier. Pelletier, a native of North Carolina, is returning to the area with his family after 12 years in New Jersey, where he worked in the transportation industry.
"We really wanted to come back home," Pelletier said. "My family and I looked at all the franchise opportunities that were available and really liked what Tint World offered. They approach the business like a family, and the support they offer franchisees is the best in the industry. On top of that, they're offering amazing products and services for the whole family, whether that's safety enhancements, aesthetic upgrades, protection or audio-visual features."
Pelletier's preparation for the store opening was interrupted by Hurricane Florence in September. After the storm, Pelletier encouraged the contractor who was building out his store to instead help repair local homes damaged by the storm.
"We're happy that Tint World can be part of David's homecoming with his family," said Charles J. Bonfiglio, president and CEO of Tint World. "His business experience, his commitment to family and his enthusiasm for Tint World will all be assets for this new location. He's shown that he'll go the extra mile, and with Tint World's line of amazing products and world-class standards for service, that's going to be a blessing to the people of Jacksonville."