News
Tint World Opening Eighth North Carolina Location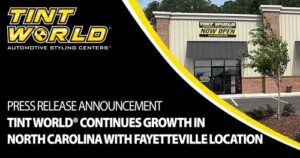 Tint World Automotive Styling Centers is opening a new location in Fayetteville, North Carolina, the company announced.
Tint World Fayetteville, owned by Shawn McMaster, Jaysen McMaster Foreman and Candi Krueger, will provide automotive aftermarket styling services for residents in the Fayetteville area, including service members stationed at Fort Bragg.
"The three of us share a passion for automobiles, and we all love North Carolina," said Shawn McMaster. "We have extensive experience with Tint World, and we are proud to bring their world-class offerings to the Fayetteville community. We are also thrilled to be able to serve Fort Bragg and the area's military community. Our brand-new, state-of-the-art facility is backed by Tint World's industry-leading business model, which is based on equipping its franchisees with all the tools needed for success. As a result, we're uniquely positioned — and excited — to meet and exceed the expectations of our customers."
Tint World Fayetteville marks the eighth location in North Carolina, with its official grand opening celebration scheduled for July. McMaster, McMaster Foreman and Krueger own and operate Tint World Greensboro and have two additional Tint World franchise locations scheduled to open in the near future, the company said.
"Our continuing success throughout North Carolina demonstrates the strength of Tint World's proven franchise system and vision for growth," said Charles J. Bonfiglio, president and CEO of Tint World. "Shawn, Jaysen and Candi have embraced our reliable, repeatable processes, with results that speak for themselves. Their continued commitment to Tint World and their customers shows what is possible for our franchisees, inspiring all of us to continue aiming for the highest levels of success."